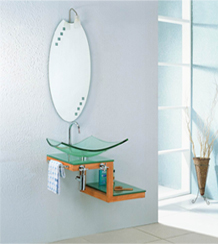 Sunday Morning
Product Description
This irregular shaped glass basin creates a breathe of fresh air to this art piece which is mounted on a light maple pedestal. This set is unique in every manner down to it's front mounted faucet handles and extra tall oval mirror.
Dimensions
Mirror Height: 36.25 in.

Mirror Width: 17.75 in.

Sink Height: 20.5 in.

Sink Width: 31.5 in.

Depth: 13.75 in.