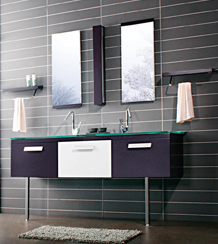 Chateau
Product Description
With its sleek, refined and practical design this dual sink is perfect for the active couple who appreciates beauty and comfort equally. With its molded glass basins, chrome faucets, and deep distinctive purple cabinets, this peice has it all times two.
Dimensions
Mirror Height: 29.5 in.

Mirror Width: 13 in.

Sink Height: 14.5 in.

Sink Width: 63 in.

Depth: 19.75 in.